I've tried nearly 6 times now to write an introduction to this blog that sums up everything that I'm feeling right now, but it's hard. Nearly 8 months has passed by here in Argentina and it's starting to dawn on me that I have very little time left. With so many things planned it's really saddening to talk with friends and say 'We NEED to do this before I leave!' and realize that I probably won't be able to. With only 70 something odd days left, 15 of those will be spent travelling with Rotary and I still have to go to school. I have an exchange bucket list with both my host family and my friend Leonie, and my classmates are always telling me they have things they want to do with me before I leave, too. It's all so hard because I don't know when I'll be able to visit again.
While all of the exchange students will be leaving not knowing when they'll be able to come back to Argentina, the majority of the other exchange students live in Europe and they already have plans to get together given that they can hop on a train and be in the same city within hours. They always say "Micah, you can come too!" but unless they're willing to pay for my plane ticket, that's probably not going to happen. While I have become close to some great Argentine people, the people who always understand what I'm going through and are always open to new things are the other exchange students, and I am truly am going to miss them.
But I've had some fun adventures lately! This is going to be a long post...
On March 24th was the Argentine Day of Remembrance for Truth and Justice, commemorating those who were killed in the Dirty War. There were large marches in the capital, but my host family and I picnicked in a park near my house.
Día Nacional de la Memoria por la Verdad y la Justicia
Some amazing skaters!
He's gotten so big!
Jugando el fútbol!
On Thursday March 28th I went with my friend, Tilen, to pick up our tickets for Lollapalooza in the capital. It was such a great feeling knowing we could travel to, around and back from Buenos Aires alone (but still asking for directions when we were lost) without troubles, and that when we did ask for help, people understood our Spanish.
On the 1st of April Tilen and I met up with Ailen (she went on exchange to Oshkosh last year) and Pia (from Austria) in San Isidro for Lollapalooza. We saw Aloe, Portugal, the Man, Capital Cities, Cage the Elephant, Julian Casablancas, Imagine Dragons, Kidd Cudi, Zedd and Arcade Fire. It was my first festival and tons of fun, and hopefully next year I can go to the Lollapalooza in Chicago.


Lollapalooza AR 2014!
On April 5th Leonie and I made dinner for my host parents! We made flammekuchen, squash soup and 'dirt cups' for dessert!
Flammekuchen!
Dirt cups made with chocolate mousse!
La mesa!
April 11th through the 13th I went to a 'spiritual retreat' with some of my classmates. It was definitely an interesting experience and I'm really glad I chose to go. We left Friday after school and drove with la profesora de catequesis to el Colegio Emaus in Palomar.
In the opening ceremony they welcomed each school and the larger school groups had banners, flags, confetti and horns, but this was our group when they called out Sofia Bunge:
At least Jazmin got into it!
Throughout the weekend we did a ton of activities- some emotional, some fun, and others boring (with 1500+ people, waiting in line for food would sometimes take hours). I really hope the pictures help explain some of what went on, because there are no words that can.
It was a Catholic retreat called 'Pascua Joven'
The six girls from Bunge!
Doing the wave!
My group making educational games to give to an orphanage
I might be in this picture somewhere..
Misa de domingo de ramos
The theme was "Live in my love, share in my joy" and there was a song to go with. I still have it stuck in my head!
Picnic dinner with the kids from my school!
Mosh pitting and body surfing to liturgical music?
It was cold and we were tired, so after lunch we decided to take a nap.
Closing Ceremony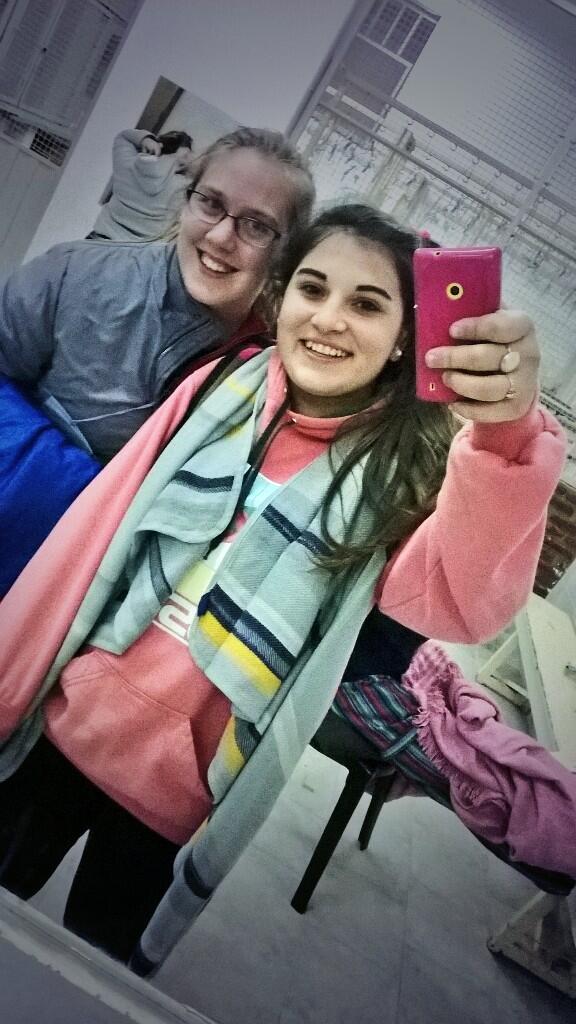 Meeting new friends and taking selfies!
The weekend I went to the retreat my host family had un campamento and they brought along Pia and Marine (two other exchange students from Austria and Belgium). They stayed for a couple of days after I got back and one night made dinner (I helped!).
Austrian and Belgian mix!
The next day in school we had mass, and being seniors we didn't have classes because we had to help set up everythig. I read the readings during mass and afterwards everyone clapped, which was slightly embarrassing. Half an hour later people were still saying I looked like a tomato, and the priest was surprised that I've only been living here for 8 months... apparently everyone understood me while I was reading! Afterwards we played a video from Pascua Joven and I really hope that it helped convince the younger kids to go next year- there were only 6 of us from my school who went this year.
pre-mass selfie!
After school two friends came home with me to eat lunch with Pia and Marine. It was fun to have everyone together and after chatting the afternoon away with cookies and terere (cold mate made with juice) we made huevos de Pascua!
Chocolate Easter eggs!
Later that evening we went to Padua to sleep in a Rotarian's house because the following day we went to Uruguay! Our combi didn't have the proper documentation to transport us over the border, so we rented a vehicle for an hour to drive us around Fray Bentos in Uruguay. We stopped to take a few pictures and drove back to the border to renew our visas and eat lunch on the Argentine side in the province of Entre Rios.
Us in the combi with our new Rotary sweatshirts!
The group in front of our combi!
In Fray Bentos, Uruguay!
On the border there was a parrot's nest!
I love the Belgian flag.. and my Belgian friends!
Now we're on Easter vacation! This Wednesday I'm going on a 6 day trip to Calafate and Ushuaia in the south of Argentina, so when I get back I'll write about that and Easter.
Until then,
Un beso enorme,